One of my enduring memories of wargaming as a teenager was getting my copy of Military Modelling and looking to see if there was a new "Table Top Teaser" by C. S. Grant (Charles Stewart Grant, the son of the author of "Battle – Practical Wargaming" and the single most inspiring wargaming book ever "The War Game"; Charles Grant); these 'Teasers' were a highlight of each issue (when present), and I used to imagine all sorts of ways to play them with the limited troops and resources I had at the time. It was especially trying waiting for the following issue with Part 2 of each Teaser, where the scenario was played out and an After Action Report (AAR) provided! While they only appeared over the five-year period 1978-1982 (there were 17 in total) they seemed to go on forever and always provided inspiration and a catalyst for ideas for future games. I had always planned to drag my old Military Modelling and Battle magazines out and scan these all into PDF or similar electronic format for my personal use, so I could more easily go through them when looking for inspiration or planning a new game.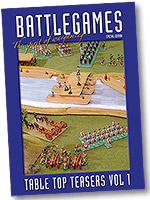 Being in New Zealand it was frustratingly common to occasionally miss an issue of a magazine as the publishers would fail to print enough or leave them out of the container of magazines being shipped to New Zealand or whatever – the days before mail order subscription was cost-effective – and as a result I have one or two Teasers that lack the following AAR article (as I'm missing the next issue). Recently I've been thinking more and more about these, especially when I was looking for a good scenario for our recent 'large' Lasalle game (see The Crossroads) and hoping to use a 'Teaser', and it was with great joy and surprise I found that 'Steve The Wargamer' had already done what I planned a few years ago, and scanned images of every article, as well as going further and also converting each article into a Word Document! Steve's also contacted Mr. Grant, the author, and obtained his sanction to host electronic versions of these articles for all wargamers to download and share! Well done Steve! You can get all the original 17 Teasers at Steve's Table Top Teasers Page which has an index of them and links to download.
The best thing about Steve's page is again, being in New Zealand, I never saw Battle for Wargamers (the magazine) until quite late, basically the last few issues in 1978 before it then got subsumed into Military Modelling – so I never saw the first 4 Teasers and Steve's page provided these which are effectively all new to me.
In recent times C. S. Grant revisited the Table Top Teasers, producing a short series of them in the relatively new Battlegames Magazine (although the series has now concluded in 2010 I believe as Mr. Grant was finding it hard to find time for them), as well as publishing some of the these compiled in the 2008 book "Table Top Teasers, Volume 1" available through Battlegames – which also includes a reprint of the original very first Teaser from 'Battle For Wargamers' in February 1978 as well as 13 other Teasers (12 being from the recent series in Battlegames). It's probably unlikely a Volume 2 will eventuate, but it'd be nice if they could, even if just in PDF format, to provide a compilation of the remaining Teasers from Battlegames and any other peripheral bits and pieces.
On a related note Charles Stewart Grant also published many excellent scenario ideas in other works – most principally the Programmed Wargames Scenarios book from Wargames Research Group Publications in March 1983 (available through Amazon US and Amazon UK marketplaces), which is where I drew the scenario for our Lasalle game "The Crossroads" mentioned above! The book contains around 30 different scenarios and includes 'programming' to allow play either solo or with some decisions being automated, as well as randomised table layouts, and some mini-campaign possibilities.
Other works include Scenarios For Wargames also by Wargames Research Group Publications in 1981, which features 52 Scenarios divided into 8 Categories (Attack & Defence; Reinforcements; Rivers; Air, Rail, & Sea; Convoy & Ambushes; Terrain Problems; Encounter Battles; and Special Problems such as Guerilla Skirmish, Coup d'Etat, and Treasure Hunt) and which are very similar to the Table Top Teasers in design (as opposed to the more complex Programmed Wargames Scenarios above that feature solo play mechanics, more comprehensive variations, and so on) – again you can source this through the Amazon US and Amazon UK marketplaces. If you are interested in Horse & Musket, and most specifically the Seven Years War (SYW), C. S. Grant's most recent work is Wargaming In History – Volume 1: The Seven Years War from Ken Trotman Books in February 2010, a collaborative effort with Phil Olley (of the Classic Wargamer's Journal) – it's available from Ken Trotmman Books or through Amazon UK.
Ken Trotman Books also has Wargaming In History – Volume 2: The War Of The Austrian Succession: Dettingen, Fontenoy and Lauffeld (2010) by C. S. Grant and Phil Olley; Wargaming In History – Volume 4: The Seven Years' War: Hastenbeck, Rossbach and Leuthen (2011) by C. S, Charlie, & Natasha Grant; and The War Game Companion (2008) C. S. Grant's follow up work for his father's famous "The War Game" (which adds considerable new information on the Grants' armies, scenarios & tips mostly for 18th Century & American Civil War wargaming, wargames campaigns, refighting Lobositz, Guilford Courthouse & a variant of Gettysburg, plus new rules & playsheets).; and a reprint of the classic "The War Game" by Charles Grant is also available.
All of these works are fantastic sources of scenarios, game ideas, and inspiration – they fit with all rules, and all cover different scales of games, some being larger (Brigade to Divisional) sized suitable for things like Lasalle (Napoleonics), Fire & Fury  (ACW), or even DBA, DBMM, Armati or FOG (Ancients); others are smaller skirmish type games, suitable for any period in history and skirmish gaming rules the likes of Song of Blades & Heroes (Fantasy), Song of Drums & Shakos or Sharp Practice (Napoleonic), '61-'65 or Terrible Sharp Sword (ACW); plus all the scenarios regardless of size will fit easily and/or be converted to rules & periods like TSATF (Colonial or WW1) or Crossfire or Rapid Fire (World War II & Moderns),  or any other period or rule set you can think of similar to the above… These are a huge resource for any wargamer in nearly any period who wants to play something other than bland equal points tournament style encounter battles… So I Charge my glass and doff my hat Mr. to C. S. Grant – these works will be in regular use my myself for a long, long, time to come, and I imagine with many other wargamers too…
Note 1: C. S. Grant has been somewhat confusingly referred to as Charles Grant on many occasions by various people (notably those who know him in person), especially since 1979 after his father passed away and he began to be actively published – this causes (me at least) occasional confusion between him and his pioneering father when reading about or discussing either of them.
Note 2: And if you weren't aware – lots of old classic wargaming books (many with lots of scenario and game ideas) by the likes of Don Featherstone, Charlie Wiesencraft, Paddy Griffith, and others, have been coming back in print since about 2008 at John Curry's The History of Wargaming Project.
Further Reading: