1980 to 21st Century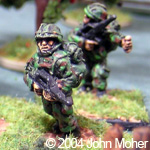 Hypothetical 1993 NATO exercise with reinforced British Para Company clearing a village held by a reduced German Panzer Grenadier Company.
As one of our first games using Crossfire for a 'Modern' game we pitted my 1980's Falklands War British Paras against Kieran's newly painted up modern (1990+) Germans in a NATO training exercise. My Brits would be supported by light armour in the form of a pair of CVR(T)'s (i.e. a Scorpion & a Scimitar), and the Germans had integral LAW (Panzerfaust 3's) and a supporting Milan ATGW team. Nearby some Mechanics in a Fuchs Transport Panzer are repairing a Leopard II MBT from the previous day's exercise (as an excuse to get Kieran's new vehicles on table as well)!
The Modern period traditionally covers everything from the Korean War in 1950 through to the present day. The sheer number of conflicts is actually pretty staggering and as someone once said there is a war in progress somewhere round the globe every single day (a pretty sad fact really). In the past I have mainly been interested in the Arab-Israeli conflicts and the potential European confrontations generated by the Cold War – these interested resulted in my being a co-author of the Modern Spearhead (© 2000) rule set for modern Brigade to Corps level battles with micro-armour. However in recent years as I have moved away from gaming in smaller scales such as 1/285th micro-armour, and to some extent that Grand-Tactical type of game, I have revisited my interest in other modern conflicts. As a result I'm now slowly starting to game these at the Company & Battalion level in 1/76th (20mm) using Crossfire.