Napoleonic

The New Zealand Wargaming National Convention (NatCon) is being hosted this year by the Hutt (Valley) Wargaming Club at St Patrick's College in Silverstream, Upper Hutt. Veterans of previous Hutt Club conventions will be familiar with this hall. As usual the even runs over Easter, which this year is relatively early (29-31 March), and registrations are $50 up until the 25 January, after which they are $75 (all registrations and entries after this date are subject to the consent & discretion of the convention organiser and/or tournament umpire).
There will be a traditional convention dinner on the Sunday night (in Trentham, Upper Hutt), with a cost of $25. Currently there are 9 Tournaments available, and these are: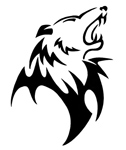 Come along and attend BattleCry, Auckland's largest all-round weekend gaming convention. On hand will be all manner of roleplaying, wargaming, cardgaming, and live-action tournaments and events, as well as a collection of stalls and displays of gaming materials. We welcome all comers, from experienced gamers to those of you out there that are merely curious as to what it is all about.
Entry into the venue is free, and we will have a number of likewise free events and demonstration games to keep you entertained during your time at BattleCry. If you are however interested in taking part in one or more of the tournaments being held over the weekend, there is a cost and we encourage you to pre-register and pay as early as possible to ensure a place, with prizes on hand for all such tournaments. Tournaments include:
Life has been a bit hectic over Christmas – with holidays, work, catching up on gardening & clearing clutter (both wargaming and general household accumulation), and a few other matters – so I haven't had much chance to progress any posts in January at all, even though I do have several part-written or drafted in outline. Meanwhile here's a little eye-candy of a couple of my 28mm Napoleonic British units that featured in my 'Hundred Days' games in 2011!
I saw this posted on TMP and couldn't resist putting a link up here!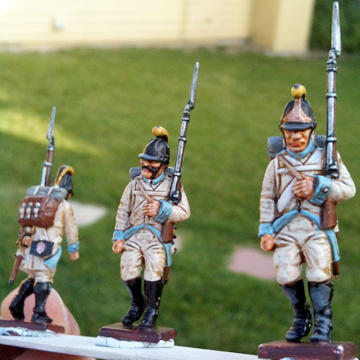 I stumbled across Jeff Lower's Blog recently care of Michael Davis – and he's currently working on some new Victrix Austrians – and my gosh they do look good! The new Victrix ranges include two Infantry packs (a early 1798-1809 set in helmets, and a mid to later period 1806-1815 set in shakos), a Grenadier set (for 1798-1815), and a Landwehr Infantry set (for the later 1808-1815 period). You can check out Jeff's progress on his blog.
It's enough to inspire one off into a another sub-period of Napoleonics (i.e. 1805-1809) – argggh… must resist, resist, must… must… With Sam Mustafa's new "Maurice" 18th Century rules likely to finally inspire me to get on with the WSS (War of the Spanish Succession) in 28mm the last thing I need is a second 28mm Napoleonic era to pour cash into as well!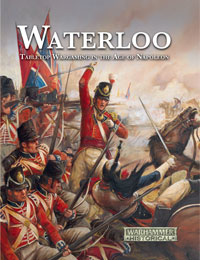 I recently purchased a copy of Waterloo from Warhammer Historicals – partly because it was on 50% discount, but also partly because initial feedback was quite positive about it's production quality and content. I've had it for a few days but to date have only managed to skim read through it so as yet haven't looked into the actual game mechanics in detail – but I can say production quality is superb – and on a par with Kampfgruppe Normandy (although Waterloo is not such a 'heavy' book.
However John Michael up in Canada has played through a quick introduction to the rules on his Fuentes de Onoro (Wargaming in 28 mm and sometimes smaller) blog – it's an interesting read and there's some interesting points illustrated. I have yet to get through the rulebook in detail (and will post my thoughts here once I do) – meanwhile based on John's feedback in his post above the unit rosters look a bit busy and complex, actually I didn't pay too much attention to these when I first browsed the book, but it looks like a bit of info to track (including specifics about battalion officers I overlooked previously), so you may not want to be managing more than half-a-dozen units normally.
I've recently been talking to Tony Won (a wargamer & historian in Belgium) about various things Dutch-Belgian and Hundred Days related – Tony is a bit of a Hundred Days expert with 30 years effort on the subject, but is also a wargamer who obviously has some very nice models in his collection. Tony (with the help of a friend) has constructed a full 28mm model of Hougoumont and it's surrounds (using the relatively newly released 3-4 years ago range of buildings from Hovels Ltd) and it can be seen in all its glory in a 27-image slide show at the Hovels' website – it's truly a magnificent sight and a must see if you haven't seen it previously!
The Siborne "Small" Model shows the area around the Brussels-Wavre crossroads including the farm of La Haye Sainte where, during the second phase of the battle of Waterloo at 1.30pm to 2.30pm (Sunday 18 June 1815), Picton's Division engaged the Divisions of Donzelot, Alix and Marcognet, while the farm itself was still held by the Kings German Legion. This is not to be confused with Siborne's "Large" model which depicted the entire Waterloo battlefield. On his blog Michael Davis (Michael's Cabinet) provides a brief summary of the model provided by the Royal Armoury Museum at Leeds in the UK, and a nice selection of photos. This model is interesting in that the figures are approximately 25mm scale (the "Large" model used 6mm scale figures I believe) – and there are over 6,500 figures (Infantry, Cavalry, and Guns & Carriages)! If you have not seen this make sure you check out the details on Michael's Blog, and his gallery of photos.
Continuing with more of Lieutenant General Hendrik George de Perponcher-Sedlnitsky's 2nd Netherlands Division in the Hundred Days campaign here we have my recreation of (Major-General) Willem Frederik count of Bijlandt's (or Bylandt) 1st Netherlands Brigade; following on from the 2nd Nassau-Usingen Regiment and the 28th Oranien-Nassau (Orange-Nassau) Regiment of von Sachsen-Weimar's (Saxe-Weimar) 2nd Netherlands Brigade. So here's some more 'Work In Progress' type photos as I work on basing these chaps ready for service on the table top…
Over the past 18 months I've regularly looked at the models buildings and wagons (and the Berlin Tram) by Najewitz Modellbau in Germany – they look fantastic in the photos and I've always been keen to take the plunge – however the description of the material has always had me a bit wary – the wagons & tram and some of the smaller scale buildings being laser cut Finnpappe which they describe as "…no word for it in English dictionary is a product made of ground wood pulp. To say it is cardboard is the wrong title for it. It´s more similar to MDF, quasi 'MDF-light'." However the larger 1/72nd and 28mm buildings are kitsets of a resin material, the type isn't clearly specified on the website – but I took the plunge recently and ended up ordering a selection of the 1/72nd scale buildings…
Continuing with Lieutenant General Hendrik George de Perponcher-Sedlnitsky's 2nd Dutch-Belgian Division in the Hundred Days campaign and the balance of (Colonel) Prince Bernhard of Sachsen-Weimar-Eisenach's 2nd (Nassau) Brigade, and following on from the 2nd Nassau-Usingen Regiment is the 28th Oranien-Nassau (Orange-Nassau) Regiment – the unit von Sachsen-Weimar (Saxe-Weimar) was Colonel of prior to taking over the 2nd Brigade on the 15 June 1815. So as these are near completion and following the 'Work In Progress' type photos theme, here's the Oranien-Nassau regiment…
I have finally got around to getting to work on basing up my figures for Lieutenant General Hendrik George de Perponcher-Sedlnitsky's 2nd Dutch-Belgian Division in the Hundred Days campaign. First up is (Colonel) Prince Carl Bernhard of Sachsen-Weimar-Eisenach's (Saxe-Weimar in English) 2nd (Nassau) Brigade, with possibly my absolute favourite uniformed Allied unit from Quatre Bras, the 2nd Nassau-Usingen Regiment. As they are now firmly mounted on bases ready for completion by flocking, varnishing, and fitting of standards I thought it was a good excuse to take some 'Work In Progress 'type photos of the near completed regiment…
I've been giving some thought to skirmish gaming over the last year or so – it started with Fantasy, as I was looking for something to do with my collection of classic D&D (Dungeon's & Dragons) RPG figures that I've collected over the years (some dating from the early 1980′s, others being more recent 2000 acquisitions after the release of 3rd Edition D&D tempted a (very) brief revisit to the P&P (Pen & Paper) RPG world), however the idea rapidly spread to Napoleonics (to use my assorted surplus figures from my Lasalle/SHAKO armies) and then it's spread to thoughts of doing the F&IW (French & Indian War); and with the new releases by Empress Miniatures this year, the 19th Century New Zealand Wars!