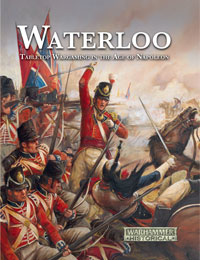 I recently purchased a copy of Waterloo from Warhammer Historicals – partly because it was on 50% discount, but also partly because initial feedback was quite positive about it's production quality and content. I've had it for a few days but to date have only managed to skim read through it so as yet haven't looked into the actual game mechanics in detail – but I can say production quality is superb – and on a par with Kampfgruppe Normandy (although Waterloo is not such a 'heavy' book.
However John Michael up in Canada has played through a quick introduction to the rules on his Fuentes de Onoro (Wargaming in 28 mm and sometimes smaller) blog – it's an interesting read and there's some interesting points illustrated. I have yet to get through the rulebook in detail (and will post my thoughts here once I do) – meanwhile based on John's feedback in his post above the unit rosters look a bit busy and complex, actually I didn't pay too much attention to these when I first browsed the book, but it looks like a bit of info to track (including specifics about battalion officers I overlooked previously), so you may not want to be managing more than half-a-dozen units normally.
Everyone's familiar with the 'range guessing' concept, you either love it or hate it, but the artillery firing process all looks rather tedious on first glance – John described it as fun, but I can imagine it getting pretty annoying after multiple times in a game and/or multiple games frequently with all the dice rolling, range guessing, scatter dice, and so on. The TAC concept for activation points looks interesting and certainly a nice clean mechanic to manage activity and command control, however the random initiative each turn (meaning one side may activate and move/shoot twice before the other can do anything) may not be suited to this type and scale of game, the concept itself is not an issue but combined with some of the other mechanisms it seems a bit counter-productive and likely to result in players being ultra cautious one minute then making dramatic desperate moves or charges the next. The other weird effect with the TAC points is in John's sample playtest artillery appear to fire volleys then move unlimbered quite rapidly across the table in the same turn – which doesn't seem right (I'll have to look into that in the rulebook).
One historical fact they've clearly got completely wrong is the effect of cuirasses on musketry, Cuirassiers being harder to harm with musketry in the game (i.e. only get hit 50% of the time other people do), when in fact the opposite was true in reality (the cuirass offered no special protection from musketry and was only a limited advantage in mêlées with other cavalry, to protect against sword & sabre blows) – so players will probably want to drop that rule straight away. The actual Musketry mechanic is a little innovative, but the practical application is the dreaded buckets of dice effect – requiring multiple rolls with a lot of dice (e.g. one fire fight example John provides requires 4 separate rolls totalling 28 Dice to resolve one volley of shooting between a pair of infantry units). Mêlée  is the usual fairly straight forward 'buckets of dice' you'd expect from a Warhammer game (in the example a Cavalry unit against an Infantry unit in line rolled 28 Dice for combat) so will either not bother you or perhaps drive you mad?!
It also looks like a typical game may only last a handful of turns, with results being extremely bloody and quick (possibly a bit a historical if too bloody – but all rules face this issue finding the balance between casualties and morale – real Napoleonic Battles were however generally very light on casualties and units often became combat ineffective with only 5%-10% casualties as the morale effect far outweighed the actual physical damage) – and dare I say it a bit too line up and shoot then charge in nature. However much of this doesn't come as surprise and looks fairly in keeping with the mechanics of most Warhammer series games, although on the surface some of it doesn't look or feel overly Napoleonic (but I may yet be proved wrong), and I suspect this is gonna be more of a horse & musket 'fun game' for a Friday Night with 4-5 units a side for those just wanting to push some toy soldiers around and may not have quite as much period 'feel' or 'historical simulation' that rule sets like Lasalle, Might & Reason, or Shako provide. But is bound to appeal to many people who want that type of game, or are looking to play a historical variant of Warhammer style rules, and as mentioned does include a couple of interesting mechanics.
Production quality is great of course, and the book is worth considering getting regardless for the inspiring photos, uniform and historical information, and the campaign scenarios (especially at just £18 in the sale – heck that's why I got it as it was a no lose option) – hopefully I'll get time to read in more detail soon and post more detailed thoughts,  and maybe even try a game ourselves. Obviously some of my initial observations above are based on John's account on his blog and the balance are just preliminary impressions based on a first read of the rulebook, so I look forward to John playing a large action and reporting results on his blog, and will hope to post back more of my impressions here soon.