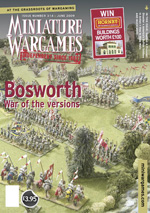 The latest issue of Miniature Wargames (No. 311 – March 2009) has arrived and in the editorial Andrew Hubback has announced that the promised new format will be implemented from the next issue (April). Miniature Wargames Website.
Update: 26 March 2009 – My copy of Miniature Wargames 312 (April 2009) arrived today and features the new layout and type faces. Definitely an improvement to the appearance and the gradual trend for more of the articles to be of more interest seems to continue at first glance.
An improvement in some of the photos as well – again significantly increasing the proportion that are of the standard found in Wargames Illustrated, Wargames, Soldiers & Strategy, and Battlegames magazines.