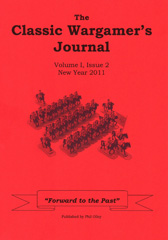 It arrived here in the Antipodes just 4 days after posting in the UK, and once again the Classic Wargamer's Journal is a refreshing read, bringing back memories of those glorious days in the 60's & 70's when names like Don Featherstone, Charles Grant, Brig. Peter Young, Terry Wise, Paddy Griffiths, and others inspired the masses of Baby Boomer & Generation X budding wargamers! I find I particularly enjoy CWJ simply for its style and format, which brings back many memories of my wargaming childhood, and also many of the articles which relate or allude to those classic publications by the personages above during that time.
Issue 2 of Volume 1 includes a brief letter from Don Featherstone, still getting along at 93, albeit sans all his wargaming armies that have long since gone to new homes. He's certainly been an inspirational chap and as I commented on Phil Olley's Blog, must surely just about be the last of those assorted venerable gentlemen I alluded to above that is still with us…
Paddy Griffith's & Terence Wise's passing mid & late last year (2010) has thinned the ranks of those surviving 'leaders & shakers' of the 60's and 70's…
Gaming action includes accounts of efforts to commemorate the anniversary of the original Spurlash Down (in the Blast Valley) game all those years ago, including Spurlash Down in the Blast Valley converted to WW2 Naval, and 'Ready to Blasthof' – Spurlash Down refought in Australia. 'Raid from the Sea' Game Report & Scenario sees an ACW Landing Party trying to rescue a captured spy held in a seaside village, and in a similar vein there's Sigismund Voralsen's Viking Raid (which all seems to go horribly wrong for Sigismund)! Stuart Asquith discusses refighting 'Hook's Farm', a scenario from H. G. Wells "Little Wars".
There is an excellent account of a Black Powder game at Freeman's Farm, 19 September 1777, during the American Revolution, and Ian Allen continues the "Tales of the Golden Head" colonial adventure saga, recounting the action in his campaign. The Battle Reports & Scenarios are concluded with a reprint from Jack Scruby's War Games Digest, Book I, Volume III, September 1957, of a Napoleonic battle report set in 1809.
Peter Verduyn continues his discussion of Hyboria and creating Imagi-Nation Maps from the previous issue, and is supported by an article on inspiration for naming 'Imagi-Nation' maps. And Stokes Schwartz provides a motivating lecture of, well, painting motivation, reducing the wargamer's lead mountain, and doing more than vacillating & day-dreaming! And on the historical side we get Part 1 of 'Viva Catalonia' – an interesting look into wargaming the 1713-1714 War of the Spanish Succession and worth a read.
Finally there is an interesting (though possibly contentious) "10 Commandments for A Wargames Club" which I've reproduced on the Auckland Wargaming Club Website out of interest; and the issue is rounded out with several other letters and minor articles.
Authors (& their Blogs) featured in the issue:
Next Issue due about May 2011.